DIVIDER STRIPS
TESCO Products has been manufacturing and supplying alloy floor and wall dividing strips since 1975. Our extruded alloy strips have passed the "test of time". With millions of feet of our strip installed in Terrazzo, Tile, Concrete, Marble, Epoxy, Polyester and Polyacrylic both indoor and outdoor there is no doubt you are choosing the correct divider strip!
Light Weight

Increased Strength

More Resistant to Acids

Easier Handling and Storage

Available in most popular sizes

One piece, never a worry about top separating from base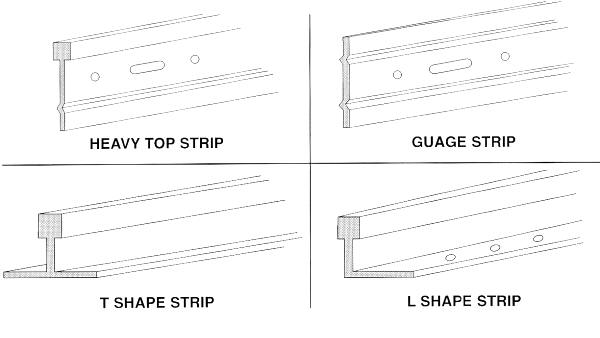 TESCO Products began producing alloy divider strips in 1975 and has produced and sold millions of feet of this superior strip to the Terrazzo and construction trade. TESCO has done away with most of the drawbacks of the old fashioned zinc topped, 2 piece, galvanized steel base divider strips.
No zinc tops to separate from the steel base and ruin a good terrazzo or flooring job. No other white metal divider strip is recommended for exterior use. No other strip will stand up better under severe acid or salt attack.
Due to the space age alloy that TESCO uses, cement products actually form a coating on our alloy strips that promotes bonding to cement and protects the strip from further attack by alkaline.
GUARANTEE: We guarantee our alloy divider strips to have equal or better performance characteristics than zinc dividers when used in cement, epoxy, polyester, polyacrylic or any other terrazzo or flooring systems.
CORROSION RATE WHEN PARTIALLY EMBEDDED IN CONCRETE
Contaminate

Zinc

TESCO Alloy

Muriatic Acid,

as frequently used for cleaning terrazzo

Effected

No Effect

Light Salt Solutions,

such a Calcium Chloride

Effected

No Effect

Light Alkaline Solution

Slight Effect

Slight Effect

Urine

Effected

No Effect

Blood

No Effect

No Effect

Cleaning Preparation,

j

uices, oils, tea, coffee, butter, mayonnaise, vinegar, shortening, etc.

No Effect

No Effect

Gasoline

No Effect

No Effect

Trichloroethylene

No Effect

No Effectt

Highly Industrial Atmospheres Penetration (1 Mil=0.001 inch)

.2 Mils pr/yr

.2 Mils pr/yr
This short table only applies to solid zinc strip. However, approximately 80% of all strips used have only a zinc top and a galvanized steel base. The galvanized sheet metal base has very little structural strength and is attacked by most all elements. TESCO ALLOY DIVIDER STRIP is the strip to use and specify.
Click here for a list of divider strip stock items.