ABRASIVE STONES
We stock a wide selection of silicon carbide abrasive stones for terrazzo applications. The drawing below shows standard shapes for the industry. Click here for printable PDF of the shape drawing.
Click here to see our current stock list.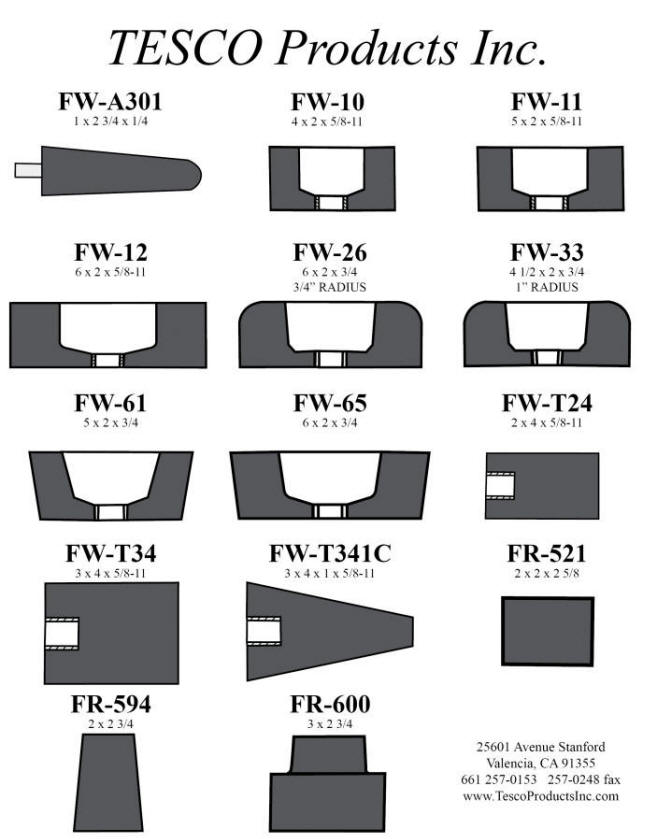 TR99 ANGLE HEAD
FW-65 CUP STONE
TESCO STONE GUARD




The TESCO stone guard is an extruded plastic protective guard molded in the exact shape of the popular FW-65 cup stone. The guard enables the operator to grind and polish tight to walls without fear of scratching or scoring finished wall surfaces, resulting in less costly and more productive edge grinding. It also helps protect the operator from flying debris. It wears at the same rate is the cup stone.

Tesco wood wedges for mounting abrasive stones

Tesco Stone Dresser




Shown with replacement cutters
For a complete lists of the abrasive shapes and grits we offer see our Abrasives List Page.
For pricing call 661-257-0153 or email us.